About
Spacious, Modern
Clean and Safe
Laundry Time, was built ground-up with the highest consumer experience in mind. Laundry Time brings its customers into a world of 48 modern front-loading stainless steel washing machines in a variety of sizes; 62 dryer pockets, including six super large 80-pound pockets, and better conveniences than doing laundry at home or in the basement.
Instead of doing wash in the usual cramped laundry space, Laundry Time is spacious. It has high ceilings, white ceiling fans to keep air circulating, glass mosaic tiles in shades of blue and white that glisten in the sunlight, and gleaming rows of stainless steel washers and dryers.
Laundry time is open
seven days a week
from 6:30 a.m. until 10:30 p.m.,
with the last wash at 9:15 p.m.
Features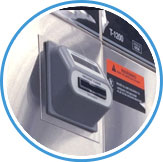 Card Operated
Our system is capable of accepting credit cards/debit cards as well as cash. The system is also able to break large bills down for customers.
Card System
Laundry time offers a unique card points system for its customers. Customers can use their points cards for the following: Rewards, Assorted SpecialsWash to win program, Birthday bonus, Card registration for easy refund if you lose your card, No "coin jams" to cause customer inconvenience
Clean and Spacious
The area is clean and spacious with ample seating. It has high ceilings, white ceiling fans to keep air circulating and well lit.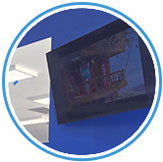 TV
Six 60" flat screen LED TVs featuring a variety of channels in English and Spanish as well as a children's channel.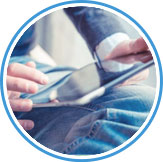 WiFi
Free WiFi for Laundry Time patrons. Our password is posted by the attendant booth for your convenience.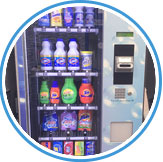 High Tech Vending
Soap/laundry supplies are stocked in our state-of-the-art vending machines and are there for our customers' convenience. If there is a product that you would like to see added, please speak to an attendant or contact us by
clicking here
.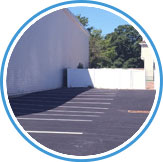 Parking
Our large parking lot is located in the rear of the building. We have 16 parking spaces as well as a handicap spot.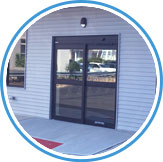 Automatic Sliding Doors
State-of-the-art automatic door allows access from the rear parking lot. Customers carrying heavy loads can easily enter the store with these convenient doors.
Bathrooms
Our two ADA Compliant restrooms include the touchless restroom system: the lights, toilets, soap dispenser, sink and hand dryer are all automatic to maintain a hygenic experience.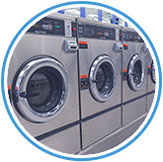 Green Equipment
Washers & Dryers
Dexter Express Professional Laundry Equipment is engineered and manufactured in the US for demanding high performance. Dexter Washers and Dryers use variable frequency drives to reduce energy consumption while producing high speed water extraction to reduce drying time. Our 62 dryer pockets deliver maximum energy efficiency and drying speed, by balancing heat input, tumble speed, air recirculation and airflow through fully-perforated, large-diameter cylinders.
Staff
Our friendly bilingual attendants are on duty to assist customer needs and mantain the store cleanliness and machine efficiency.
Safety (Surveillance)
Comprehensive 24 hour security and surveillance to ensure utmost customer safety.